Connect with the magic of the natural world.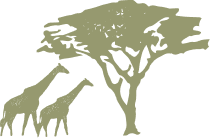 Visual & Wearable Art inspired by nature to enhance your everyday life.
Exquisite Handmade Jewelry Designs By LauraGlen Carlson
Shop Jewelry
About Us
Meet Cory and LauraGlen
Although our mediums differ, our inspiration is very much the same. While Laura Glen's influences are natural forms, flowing water or the sensual curve of a new leaf, Cory travels to some of the world's most remote places, viewing wildlife in their natural habitat. Observing and sketching rare moments in time, Cory's art captures nature in its purest form, bringing life to every painting.
What customers are saying about Carlson Fine Art Studio.
★★★★★

"Cory's gift of bringing life to his art is truly amazing.  The intensity in the expressions of his subjects are so real, they draw you in as if you were in their world.  Our house/ museum is honored and blessed to be able to display a large selection of Cory's visually
stunning works."

Rick S.

Lafayette, LA
★★★★★

We love Cory's use of vibrant, yet believable colors. We are proud to be collectors and friends of Cory and Laura. Even with their successes, they are still down to Earth and genuinely friendly people."


Barry & Ruth G.

Dallas, TX
★★★★★

"Laura,  The earrings were absolutely beautiful with the wedding dresses.  Thank you so very much for helping us make
the day SPECIAL!" 

Kim

Ruston, LA
★★★★★

"Your painting left me stunned, completely breathless.  I thought the lion was going to come right off the canvas, I can't even express my feelings strong enough.  You did a fabulous job-perfect- absolutely perfect…"'s happy customers.

Debbie

Houston, TX
★★★★★

"Cory and Laura thank you for the wonderful cougar painting and ring.  They are both terrific!"

Dwayne

Charleston, SC
★★★★★

"Thank you so much for the great job you did on the necklace! It is a lovely piece and I have already received so many compliments on it!"  

Jo

Houston, TX
★★★★★

"Your jewelry is so Fabulous!!! The pieces you made for my mother were left to grandchildren as family heirlooms...Never to be sold!!! She passed away 7 years ago...I was so happy I could find her one of a kind things that no one else had!!! She loved that.

Joey, H

MS
As Featured In